CEFTUS Talk with Cengiz Çandar,
CEFTUS online talk "Biden's US and Erdogan's Turkey" with Cengiz Çandar and Dr Ayşe Zarakol of Cambridge University
You are kindly invited to CEFTUS online talk titled "Biden's US and Erdogan's Turkey" with Cengiz Çandar and Dr Ayşe Zarakol of Cambridge University
The renowned Turkish journalist Cengiz Çandar will share his analysis of the recent events in Turkey post US elections. The online talk will be chaired by Dr. Ayşe Zarakol of Cambridge University.
The event is open to all and to join you must register via the link below:
When: Nov 26, 2020
Time: 18:00
The event is available only to the registered audience.
Registration is available via the Zoom link
After registering, you will receive a confirmation email containing information about joining the meeting.
*The event is 2 hours long. The last 30 minutes will be a Q&A session.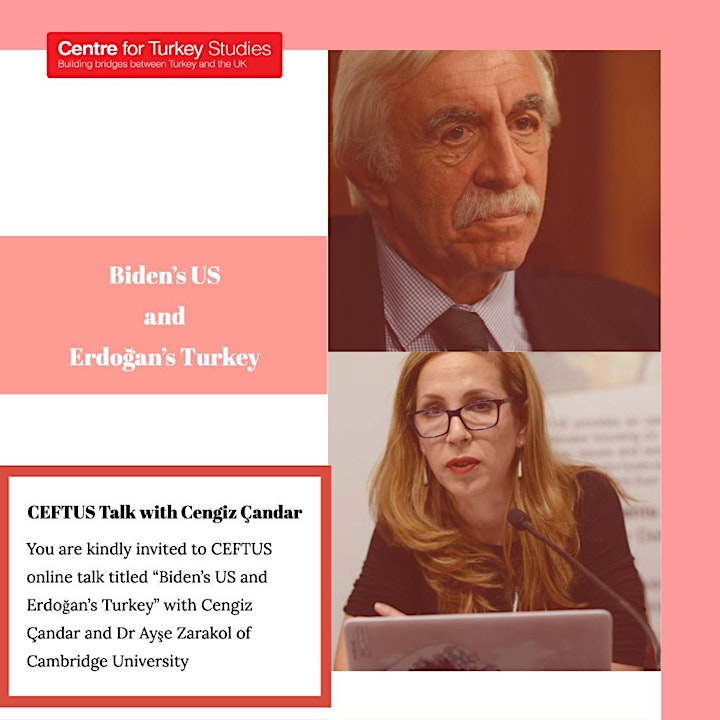 Cengiz Çandar:
Distinguished Visiting Scholar" at the Stockholm University Institute of Turkish Studies and Senior Associate Fellow at UI (The Swedish Institute for International Affairs). Winner of Abdi Ipekçi Peace Prize in 1987 for contributing to Greek-Turkish relations. A public intellectual and a leading Turkish expert on the Middle East. Served as a Special Advisor to President Turgut Özal on foreign policy (1991-1993). The main architect of the establishment of Turkish-Kurdish relations. Public Policy Scholar- Wilson Center (1999) Washington, D.C. Senior Fellow, US Institute of Peace (1999-2000), Washington, D.C. Adjunct Professor on the Modern History of the Middle East in different universities, Istanbul (1997-2010). Veteran journalist since 1976, Columnist, Al-Monitor. Author of several books in Turkish and English. His bestseller (2012) (Mesopotamian Express – A Journey in History) is published originally in Turkish and also in Arabic and Kurdish languages. His latest book entitled Turkey's Mission Impossible: War and Peace with the Kurds (with Eugene Rogan's Foreword) published by Lexington Books in June 2020.
Dr. Ayşe Zarakol:
Ayşe Zarakol is Reader in International Relations at the University of Cambridge and a fellow at Emmanuel College. She is the author of After Defeat: How the East Learned to Live with the West (Cambridge University Press, 2011), which was selected by the Russian newspaper Republic as one of the books one must read in order to understand the twenty-first century. Her most recent book is Hierarchies in World Politics (Cambridge University Press in 2017). Zarakol is an active member of the PONARS Eurasia international academic network which advances new policy approaches to research and security in Eurasia. Zarakol has held visiting fellowships with the Council of Foreign Relations, the Norwegian Nobel Institute and the University of Copenhagen. She occasionally blogs on Turkish politics for the LRB website.